Galvanizing Lines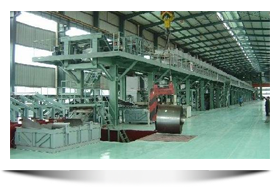 Yogiji supplies Hot-dip Galvanizing Lines where Zinc is applied to steel strip by passing through molten zinc bath so that strip acquires defined properties e.g. formability, paintability, weldability etc.
The strip cleaning process before galvanizing is an important process to ensure best results in the galvanizing process. Thermal Treatment Non-ox Furnaces, Hot & Cold Rinsing or Pickling is provided based on the configuration of the line.
Type of lines offered:
Zinc Coating Lines
Aluminum Zinc Coating Lines
HR Galvanizing Lines

Quick Links
News & Events
We have so far successfully designed, supplied, & commissioned 1250 mm strip width 4 -HI Cold Rolling Mill for MMI Tanzania and have completed several turn key projects...
Downloads