Cold Rolling Mills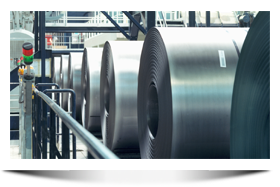 Yogiji can be your preferred supplier for Cold Rolling Mills starting from planning, engineering, implementation and modernization of your plant.
With most modern technology and many years of process knowledge the strip in the mills is produced with tightest tolerances and highest productivity.
The company has vast experience to manufacture mills which manufacture relatively thin gauges on continuous basis.
Mill Types offered:
Single Stand 4/6 HI Reversing Mills
Two Stand 4/6 HI Reversing Mills
Aluminum Rolling Mills
Skin Pass Mills

Quick Links
News & Events
We have so far successfully designed, supplied, & commissioned 1250 mm strip width 4 -HI Cold Rolling Mill for MMI Tanzania and have completed several turn key projects...
Downloads