Automatic Gauge Control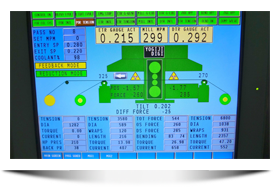 Yogiji has signed a strategic partnership contract with PSI of USA to provide IMPACT & Automatic Gauge Control(AGC) system for rolling mills.
Our AGC system is revolutionary in simplicity, performance and flexibility - the best system available for your rolling mills.
Features :
Combined mass flow, feed-forward, feedback, elongation and force control modes
Frequency response up to 50 Hz
Fixed 3 millisecond AGC scan time, independent of mill speed and PLC scan time
16 bit analog input resolution for thickness gauges
32x strip length encoder input interpolation
Dialup access for remote service
HMI software is designed to run under Microsoft Windows 2000/XP
Real time display of material entering and exiting the machine
User configurable report storage and retrieval in Rich Text Format
FFT diagnostic software tool to show deviations caused by out of round rolls, failing drives couplings, tight spots in gearboxes etc.

Quick Links
News & Events
We have so far successfully designed, supplied, & commissioned 1250 mm strip width 4 -HI Cold Rolling Mill for MMI Tanzania and have completed several turn key projects...
Downloads