Pickling Lines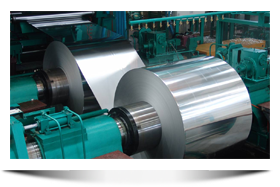 Yogiji offers Continuous, Semi-Continuous and Push Pull Pickling Lines which provide high pickled quality and high productivity for cold rolling.
The shallow granite pickle tank with counter acid turbulent flow, acid recirculation and spray rinsing ensures superior scale removal and low acid consumption.
Yogiji also offers consultancy to install Acid Regeneration Plants to reduce the environmental pollution.
Quick Links
News & Events
We have so far successfully designed, supplied, & commissioned 1250 mm strip width 4 -HI Cold Rolling Mill for MMI Tanzania and have completed several turn key projects...
Downloads